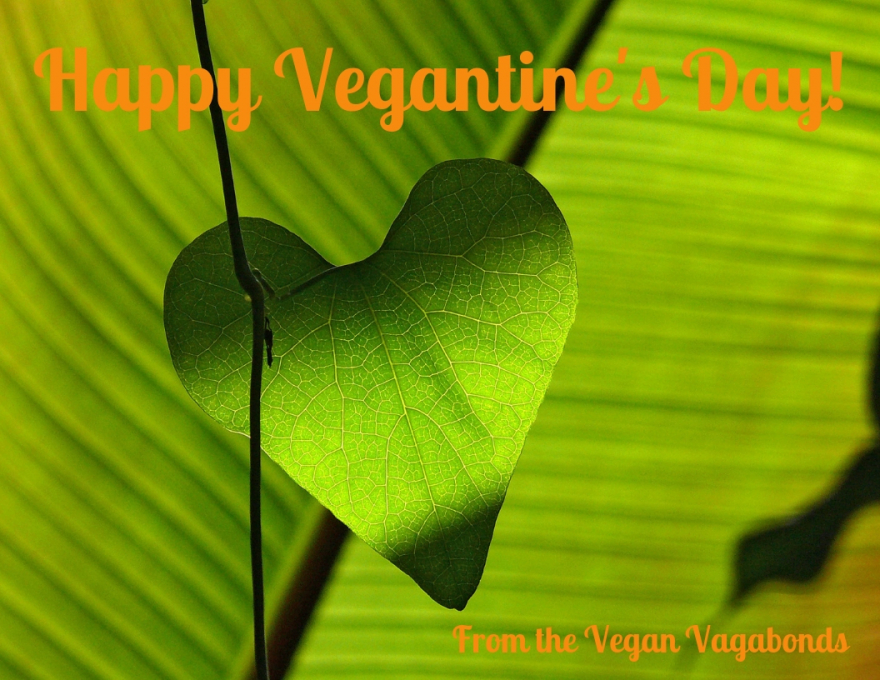 3 Delicious Recipes to Show your Love for Family, Friends, Animals and the Environment
Yes, love is in the air and what better way to share your love for those close to your heart, to the beautiful animals of the world, and to our glorious earth itself than to offer a gift of a delicious vegan treat.
Naturally, you can't go wrong with chocolates! Make sure they are at least 70% cocoa, with non-GMO ingredients and from a sustainable/fair-trade source - when you care enough to give the very best, to the very best.
Go that one step further and make something sweet and delectable with your own magnificent hands for that singularly special someone. The following will give you a tasty place to start.
Love Nuggets
For a quick and ever so scrumptious "I think you're special" treat, you just can't beat the protein ball – they're like little love nuggets.
The works:
1 cup dry quick oats
⅔ cup coconut flakes
½ cup chia seeds
½ cup dark chocolate chips (at least 70%)
⅓ cup maple syrup
1 tsp vanilla
Here's how the works, work:
Mix all the ingredients together in a bowl
Place it in the refrigerator for an hour in an airtight container
Roll into 1- inch balls
Keep in refrigerator
Makes 12-15 balls
Black Bean Brownies
I received this recipe (along with some mouth-watering samples) from a good friend who cares about my lifestyle and looks for ways to support me...and now I would like to do the same for you...minus the samples (sorry!).
Collect the Following:
1 1/2 cups black beans (1 15-oz can, drained and rinsed very well)
2 tbsp cacao powder
1/2 cup quick oats
1/4 tsp salt
1/3 cup pure maple syrup
2 tbsp sugar (or omit and increase maple syrup to 1/2 cup)
1/4 cup coconut oil
2 tsp pure vanilla extract
1/2 tsp baking powder
1/2 cup to 2/3 cup chocolate chips (Completely necessary!)
optional: more chocolate chips, for presentation
Get 'er Done Directions:
Preheat oven to 350 F.
Combine all ingredients except chocolate chips in a good food processor, and blend really well until completely smooth.
Stir in the chocolate chips and then pour the mixture into a greased 8×8 pan.
Optional: sprinkle extra chocolate chips over the top.
Cook the black bean brownies 18-20 minutes, then let cool at least 10 minutes before trying to cut.
If they still look a bit under cooked, you can place them in the fridge overnight and they will magically firm up!
Makes 9-12 brownies.
Chocolate Chia Mousse
Makes 2 servings
Ingredients
4 tablespoons

chia seeds

2 tablespoon cacao powder
12 tablespoons canned coconut milk (you can use lite)
2 tablespoon maple syrup
Water (start with 4 tbsp, but add more as needed)
Toppings (unsweetened shredded coconut, chocolate chips)
Method
In a small bowl/jar, stir together the chia seeds and cacao powder. Add in the coconut milk, maple syrup, and water, and stir until combined
Cover with plastic wrap (if using a bowl) and place in fridge for at least 30 minutes (or overnight), until it thickens and the chia seeds have absorbed all the liquid
Place in blender and blend until smooth, adding water as needed
Transfer into bowl or cup and top with your favorites – shredded coconut, chocolate chips, blueberries, raspberries, pomegranate seeds, etc.
In case I haven't mention it enough, CHOCOLATE!
Yes, chocolate does contain sugar and fat, but it also contains a key ingredient for health – cacao. Raw cacao is made by cold-pressing un-roasted cacao beans. The process keeps the living enzymes in the cacao and removes the fat (cacao butter).
And the higher the amount of cacao, the better. It's from the cacao that chocolate derives its antioxidants and these antioxidants can help guard against toxins, reduce cardiovascular problems, prevent cognitive decline and the chemical, phenylethylamine, helps boost mood.
Cacao also contains important minerals such as magnesium, iron, potassium, calcium, zinc, copper, and manganese.*
And if you choose a high-quality dark chocolate/cacao then a little goes a long way.
I hope you and your special someone enjoy these little treats that can have a big impact on your health, animals and the environment.
Happy Vegantine's! Love and kisses, Lou 💖
www.facebook.com/veganvagabonds1
New-to-Veganism Neighbourhood | Facebook
For more information on my online course for new and/or struggling vegans entitled, "The Vegan Journey: A Beginner's Pathway (tips/tools/support)", please go to the menu item Vegan Support Pathway.
*foodmatters.com